Brontes in Pennine Yorkshire
[an error occurred while processing this directive]
Edit page New page Hide edit links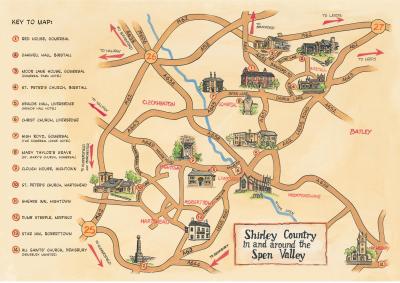 Bronte Festival in Dewsbury : September 2009
Its 200 years since Patrick Brontë arrived in Dewsbury as curate to minister in the Parish Church.
It's not a well known fact, but the story of the Bronte's life in Yorkshire began with the arrival of Patrick Bronte in Dewsbury, West Yorkshire, 200 years ago. Originally from Ireland, he arrived to take up the post of Curate at Dewsbury Parish Church in 1809, and stayed for two years before moving just a short distance away to Hartshead.
From Hartshead in the Spen Valley, ( an area of Yorkshire also known as "Shirley Country") Patrick Bronte took up  his position in Haworth.
"Shirley Country" acquired it's name from the novel "Shirley" by Charlotte Bronte, which was published in 1849.
Charlotte, also the author of "Jayne Eyre", was at school in Mirfield and was a frequent visitor to the area where she stayed with her close friends Mary Taylor of Gomersal and Ellen Nussey of Birstall.
The area is rich in culture and historical links to the Brontes and there are many literary references to exisiting locations that were brought to life in the Novels.
"Shirley Country" offers an alternative perspective to the Bronte story, one that is less well known, but is never the less significant in our efforts to understand the social and economic factors which shaped the lives of the family, particularly that of Charlotte Bronte.
Please follow the link below to the Kirklees website to discover more about the "Brontes in Pennine Yorkshire".